Artist Corner
June Paintings:  
"Arctic Beauty" This is done in Lavendars and Blues on a Black canvas. 
"The Tree Amigos:  We had some baby foxes down at the bottom of our road so I decided to paint a few. 
 
A Look Back:
June 9th "Walk In The Woods"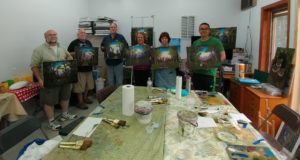 Paint-N-Party
The next Paint-N-Party will be scheduled for July.  We'll announce it in the next newsletter.
PUSH FOR FACEBOOK LIKES - PLEASE HELP :)
We are trying to increase our facebook likes.  Please take a minute and click the following link and like our page:
https://www.facebook.com/PaintingBug/
Make sure you watch the first video post we have that shows you how to set up our FB page so you don't miss anything.
Looking forward to seeing all of you in class!
Happy Painting,
Janice