Artist Corner
June Paintings:  
"The Tree Amigos:  We had some baby foxes down at the bottom of our road so I decided to paint a few. 
Distant Mountains:  This is a traditional Bob Ross Landscape.  Great painting for 1st timers.
Storms Coming:   This Seascape has a colorful sunset with storm clouds and, of course,  a big crashing wave.
Paint N Party Lighthouse:  A simple lighthouse with a calm ocean.
 
A Look Back:
June 16th "Arctic Beauty"  Fun Class/Beautiful Paintings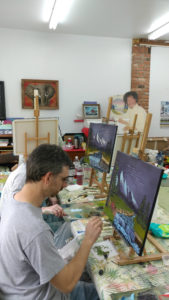 Artist Tip:
I don't know about you but I have so many paintings that my attic is overflowing.  Lately I have taken to painting on a sheet of Canvas Pad.  I use the 12x16 size and tape it to a stretched canvas in order to get the feel of the canvas.   It's been working great.   So if you paint a lot it might be worth using the canvas pads to save space in your home/studio.   You can glue the painting on to a masonite board if you want to frame it.
PUSH FOR FACEBOOK LIKES - PLEASE HELP :)
We are trying to increase our facebook likes.  Please take a minute and click the following link and like our page:
https://www.facebook.com/PaintingBug/
Make sure you watch the first video post we have that shows you how to set up our FB page so you don't miss anything.
Looking forward to seeing all of you in class!
Happy Painting,
Janice