Artist Corner
August Paintings:  
Storms Coming:   This Seascape has a colorful sunset with storm clouds and, of course,  a big crashing wave.
Evening Waterfall:   This is done on a black canvas with border.  A bit of the waterfall appears to be falling off the picture.
Paint N Party Lighthouse:  When Kevin and I were leaving Bar Harbor there was this beautiful sky at the Isthmus between the mainland and Mount Desert Island. 
Kentucky Warbler:   This Wildlife/Floral painting contains both the floral and Wildlife techiniques.  The one in the picture was done on a 12" x 12" canvas but the original is done on a 12" x 24" canvas.   
 
A Look Back:
July 18th Paint-N-Party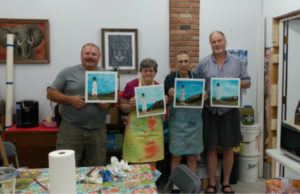 Small class but lots of fun.


PUSH FOR FACEBOOK LIKES - PLEASE HELP :)
We are trying to increase our facebook likes.  Please take a minute and click the following link and like our page:
https://www.facebook.com/PaintingBug/
Make sure you watch the first video post we have that shows you how to set up our FB page so you don't miss anything.
Looking forward to seeing all of you in class!
Happy Painting,
Janice