Artist Corner

Omega Arts Week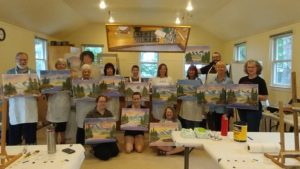 "Gray Mountain"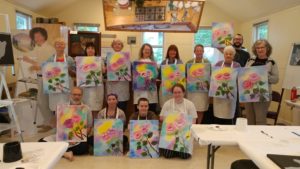 "Two Roses"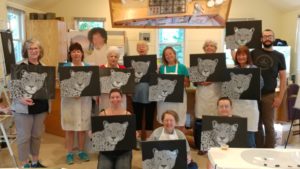 "Acrylic Jaguar/Leopard"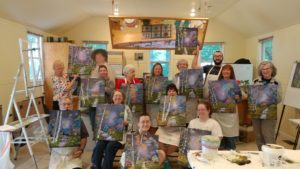 "Purple Haze"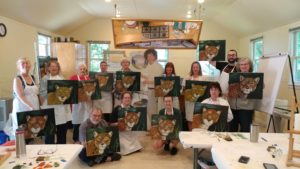 Finished "Jaguar/Leopard"
In Other News:

FRAMES: Continuing the search.

Bob Ross Workshop at the Omega Institute was a Success!!!
https://www.eomega.org/workshops/bob-ross-painting-workshop
The workshop which ran from July 1, 2019 - July 5, 2019 was a great experience and a lot of fun. Everyday 12 students used the right side of their brain to create a beautiful painting. Many of them were beginners to Bob Ross but you'd never know it.
I'd never been to the Omega before. It's a great place with walking trails, peacefull areas for meditation and reflection, a beach on the lake, a great cafe and, of course, many week long and weekend workshops and courses. Meals are healthy Farm to Table foods served buffet style. I can't say enough about how great the staff was. They were always friendly, helpful and very accomodating when we needed equipment or supplies.
Thank you to Fran and Theresa for making the trek down. Also, I'd like to thank my husband Kevin, aka "Painter Boy" for all his help and support. He's the best assistant anyone could ask for and I couldn't have done it without him.
It was a great experience, great fun and I hope to do more workshops in the future.
From the Omega Institute:
Omega is a nonprofit, mission-driven, and donor-supported educational organization. For more than 40 years we've been a pioneer in holistic studies - helping people and organizations integrate personal growth and social change, moving beyond 'the way it  is toward the way it can be'. 

Considered a premiere travel destination in New York's Hudson Valley, Omega has seen more than one million people come through our doors to grow, learn, and find a greater sense of purpose. Annually, more than 23,000 people attend Omega's 350+ programs in-person, and close to 2 million people participate in our offerings online. 
More than simply a place, Omega is a global community that awakens the best in the human spirit and cultivates the extraordinary potential that exists in us all.
Sign up on our FACEBOOK page  :)
https://www.facebook.com/PaintingBug/

Looking forward to seeing all of you in class!
Happy Painting,
Janice