CLICK THE LINK BELOW TO SIGN UP

FOR CLASSES ON THE WEBSITE
      

               
                                      "First Snow"   
                            Saturday October 26, 2019
                                  10:00 am - 3:00 pm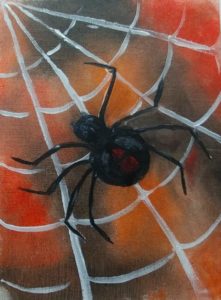 Paint-N-Party "Halloween Spider"   
                          Wednesday October 30, 2019
                                     6:00 pm - 8:30 pm
                 
                     Painting-N-Party   "Holiday Candles"   
                         Wednesday November 13, 2019
                                    6:00 pm - 8:30 pm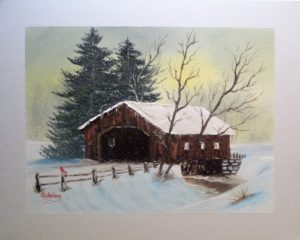 "Covered Bridge"
                         Saturday  November 16, 2019
                                  10:00 am - 3:00 pm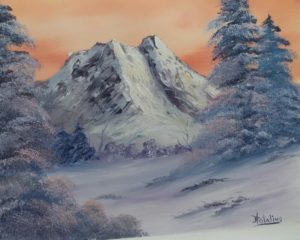 "Mountain Rhapsody"
                         Saturday November 23, 2019
                                 10:00 am - 3:00 pm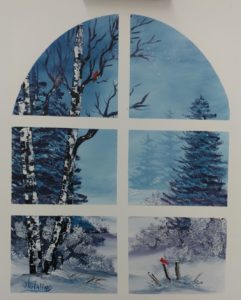 "Through the Window"
                        Friday  November 29, 2019
                              10:00 am - 3:00 pm
          SIGN UP FOR A CLASS HERE
Artist Corner
It's time to get back into a regular class schedule. With the hoiday's approaching there are several holiday themed classes coming up. The October 30th Painting-N-Party will be a Spider in a Web. A Black Friday class will be offered again this year with an old favorite, "Through the Window,". If you don't like fighting the crowds of Black Friday shoppers a painting class is a great option.
Kevin and I spent a long weekend in Washington DC a couple of weeks ago. We spent a day and a half wandering through the National Museum of Art. There are so many beautiful paintings but my favorites are the impressionists, Monet, Renoit, and Van Gogh; Vermeer; and the American Hudson River Artists Thomas Cole and William Church. If you go to the National Art museum make sure to take a Docent tour. They're offered several times throughout the day and each one focuses on a different subject. Best of all like the Museum their free and the Docents are very knowledgeable.
In Other News:
Beginning in December I will start offering weekday classes. These will be posted in the next Newsletter.

Recent Classes: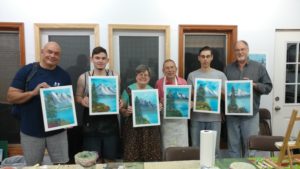 Sign up on our FACEBOOK page  :)
https://www.facebook.com/PaintingBug/

Looking forward to seeing all of you in class!
Happy Painting,
Janice
Quote of the Day
"Trees cover up a multitude of sins"
.....Bob Ross

1049 Raymond Road Ballston Spa, NY 12020
518-852-9160
Janice@paintingbug.com
Copyright The Painting Bug 2017