CLICK THE LINK BELOW TO SIGN UP

FOR CLASSES ON THE WEBSITE
Hi Everyone,
I'm sure this comes as no surprise to you but In light of this horrible virus and social distancing I am cancelling all upcoming classes until further notice.
I will reschedule them once Governor Cuomo, the White House and the Medical Experts advise that it's safe to do so.
Some of you know I flew down to Texas in the beginning of March to be with my husband for a few weeks.  That few weeks has been extended to an unknown date.  I won't be coming back until it is safe to do so.
If you'd like to take a tour of the National Museum of Art heres a link to their virtual tour. You may have to copy this to your browser. https://naturalhistory.si.edu/visit/virtual-tour
If any of you have questions or need help with a particular technique you can call me at 518-852-9160 or shoot me an email and I'll do my best to help you.
Please stay safe and stay home!!!
Janice
Heres a couple pictures of past classes: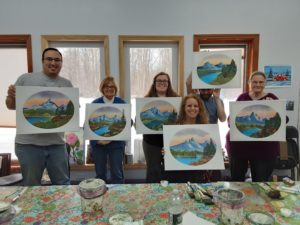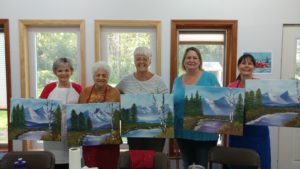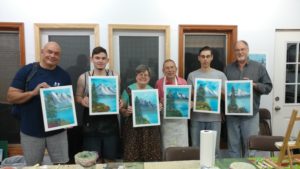 SIGN UP FOR A CLASS HERE
It will Sign up on our FACEBOOK page  :)
Quote of the Day:

"Whether my cathedral views, my views of London and other canvases are painted from life or not is nobody's business and of no importance whatsoever."
_____Claude Monet

1049 Raymond Road Ballston Spa, NY 12020
518-852-9160
Janice@paintingbug.com
Copyright The Painting Bug 2017